Historic Preservation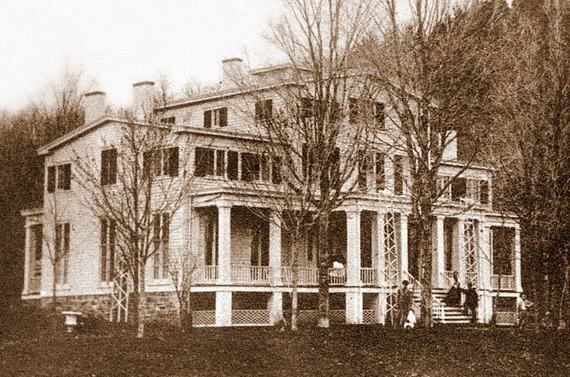 For more information or directions, visit us at www.friendsofharmonyhall.org or call 845.712.5220
HARMONY HALL ~ JACOB SLOAT HOUSE: A PRESERVATION SUCCESS STORY
Plenty of municipal governments talk about the importance of historic preservation, but few do anything about it. Fewer still take concerted action to preserve their history by buying the irreplaceable structures that define it before they are irrevocably lost to a developer's wrecking ball. In 2006, the Town of Ramapo purchased one of last surviving examples of the magnificent 19th century mansions that testify to the Town of Ramapo's rich industrial and architectural heritage. One day, this historic town site is expected to raise renewed interest in the town's amazing heritage, introducing visitors from throughout the region to the rich and varied history of New York's magnificent Ramapo River Pass and Highlands.

Harmony Hall, located in the Village of Sloatsburg, has been described by state architectural historians as a considerable example of the mid-19th century Greek Revival style of architecture. The mansion, which was designed and constructed by entrepreneur Jacob Sloat between 1846 and 1848, sits atop a knoll where it once overlooked the prosperous operation of Sloat's mill. Born in 1792, Jacob Sloat was a mechanical genius, laying claim to the third patent granted by the United States Patent Office in 1813. Jacob Sloat, who was a direct descendant of Sloatsburg settler Stephen Sloat, was only 23 years old when he built his first local mill in 1815-1816. By 1852, however, Sloat had gained a reputation as an inventor, industrialist and entrepreneur, producing as much as 8,000 pounds per week of the cotton twine, dominating the New York market and supporting the establishment of the thriving village that bears his family name.

Sloat's industrial success made him a very wealthy man. He began construction of his magnificent new family home ~ Harmony Hall ~ in 1846 and, during the summer of 1848, moved his family into that new home. Jacob Sloat died less than a decade later in 1857 and the house passed into the hands of his widow Sarah Bigelow Sloat. In 1861, the couple's 23-year-old son, Henry Ransom Sloat, purchased Harmony Hall from his mother. Marrying Carrie W. Schultz in 1875, Henry began a family of his own in the house where he had spent much of his life.

With the passing of Henry Sloat in December 1905, the house passed out of the hands of the Sloat family in 1908, beginning a period of nearly a century when Harmony Hall served as a local restaurant and inn, and later, as a nursing home. Throughout the 20th century, the building was modified extensively until it was eventually closed down by the state in 2003, and the house and two-acre property put on the local real estate market as a recommended site for the development of condominium housing. Harmony Hall and its remaining grounds were rescued by the Town of Ramapo in 2006 as part of its Open Space Acquisition and Preservation Program.

Over the past 160 years, the occupants of Harmony Hall ~ family members, guests, servants, restaurateurs and nursing home operators ~ have all left their mark on the mansion. Miraculously, they have also played a part in preserving the integrity of the original building ~ entombing original architectural elements under new construction rather than removing them as the mansion was altered to accommodate the needs of its new owners. Many of the features that were not entombed survived a century of renovation in garages, basement rooms and other cubbyholes, where they were stored away rather than destroyed ~ left there for a future generation of restoration enthusiasts that believe that a community's historic buildings can play an important role in the preservation of its history and its future.

Harmony Hall's architecture and history were deemed to be significant enough to support its listing on the State and National Registry of Historic Places in 2006. In 2007, a matching grant was received from the New York State Office of Parks, Recreation & Historic Preservation that will allow the town to begin a major capital improvement initiative that includes full restoration of the roof, cupola, front veranda and entrance doors during 2010-11. The overall goal of the restoration plan is to restore the mansion to the period of greatest historic significance ~ 1848 to 1908, when the house was a Sloat family residence. This goal is shared by The Friends of Harmony Hall ~ Jacob Sloat House, who have worked together with town officials since 2006 on plans to transform this historic structure it into a cultural and historic center that will allow the town to fully capitalize upon the benefits of this historic preservation.

For more information on the history or events taking place at Jacob Sloat's Harmony Hall, or to learn how you can participate in this important community restoration effort, please visit the web site of The Friends of Harmony Hall ~ Jacob Sloat House, or contact Harmony Hall Curator Geoff Welch at (845) 712-5220.